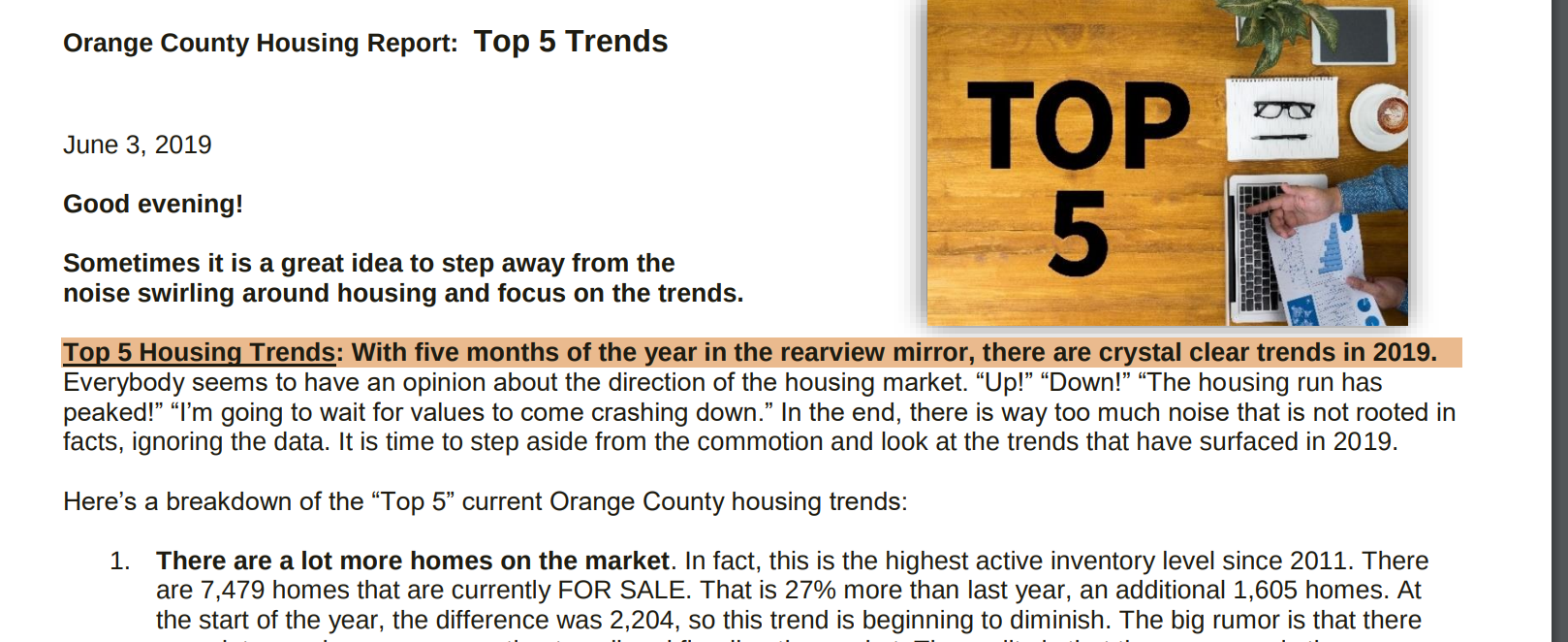 ...continued below:
3.Muted demand has put a damper on closed sales. The number of closed sales is down 9% compared to last year and off by 12% compared to 2017. When there are fewer pending sales, that translates to fewer successful closed sales. For the rest of the year, expect reports of year over year closed sales to be almost identical. Keep in mind, closed sales last year were muted compared to prior years as well. From May through December in 2018, closed sales were down by 12% compared to 2017.
4. Home appreciation is now flat, so careful pricing is crucial. With a higher active inventory, coupled with muted demand, the Expected Market Time has increased substantially. Currently, it is at 85 days, a slight Seller's Market. Unlike 2012 through 2018, housing did not enjoy a HOT Seller's Market. It only evolved to a slight Seller's Market, one where sellers get to call more of the shots, but homes are not appreciating much at all. Expect this trend to continue through the remainder of the year. As demand remains flat through the summer, more homes will be placed on the market and housing will evolve to a Balanced Market, one that does not favor buyers or sellers. There will be fewer multiple offer situations and homes will take an even longer time to sell.
5. Interest rates have dropped dramatically over the past 6 months, improving affordability substantially, but not fueling much of a bump in demand. After nearly reaching 5% back in November, mortgage rates have dropped to 4%. They have not been this low since January 2018, right before they began to spike. This has increased affordability greatly. For a $750,000 mortgage, the monthly payment difference between 4% and 5% is $445. That is an annual savings of $5,340, or $26,700 in five-years. The drop in mortgage rates saved housing from slipping into a deep funk like September through December of 2018, but is has not moved the needle much in terms of increased demand. Even with the return of historically low interest rates, demand remains muted. With the Spring Market in the past, there are only a couple of great months left in the meatiest time of the year to sell. Once the market rolls into August, housing will start to transition to the Autumn Market where demand falls along with the active inventory.
Send me an email and I'll be glad to send you the complete report with all 5 Trends.
My listing was on the market for 8 days and now in escrow. See the listing at www.CorteVillaTustinRanch.info
Also Senka's listing in Long Beach was on the market for only 6 days and currently in escrow too ! (June 5,2019)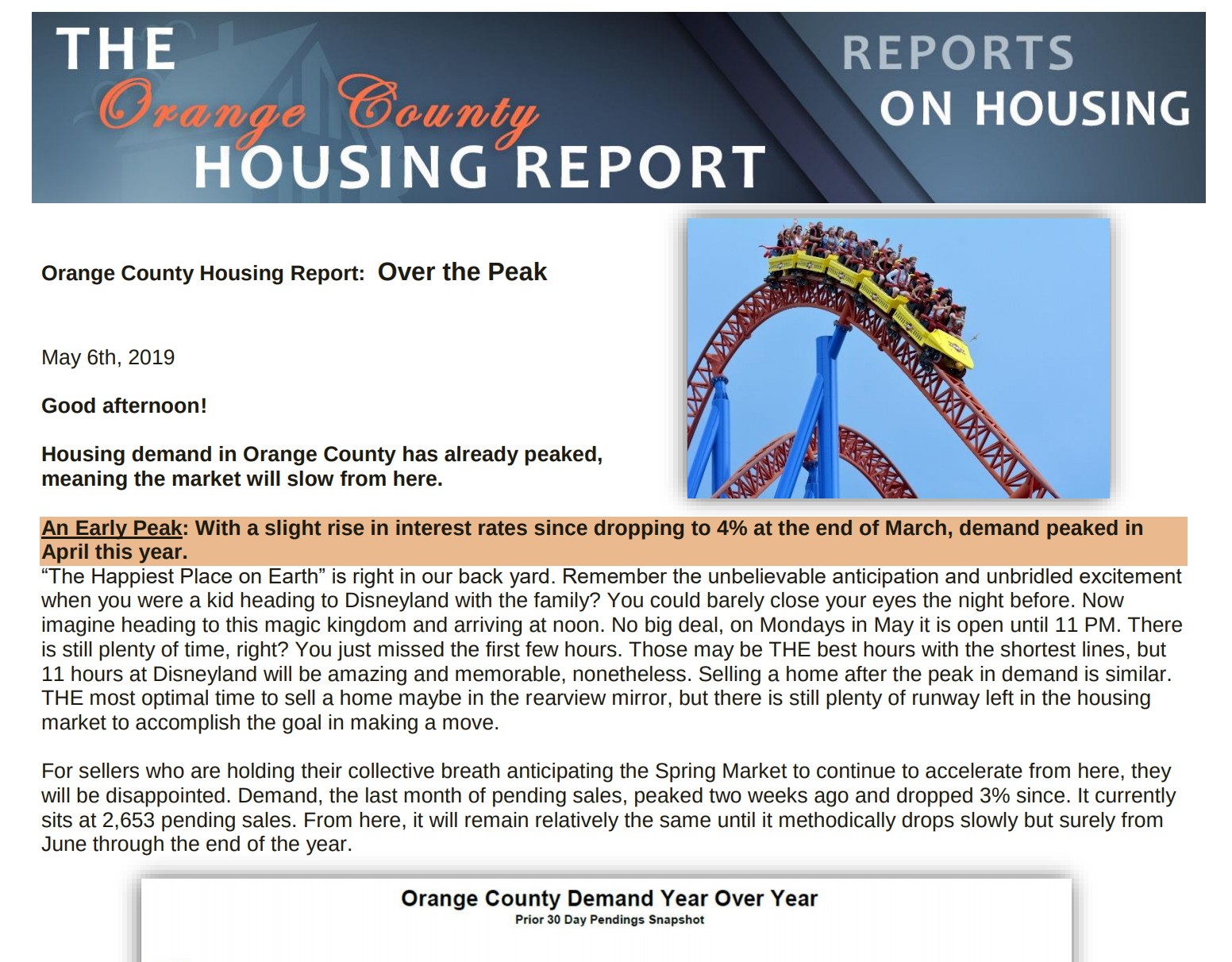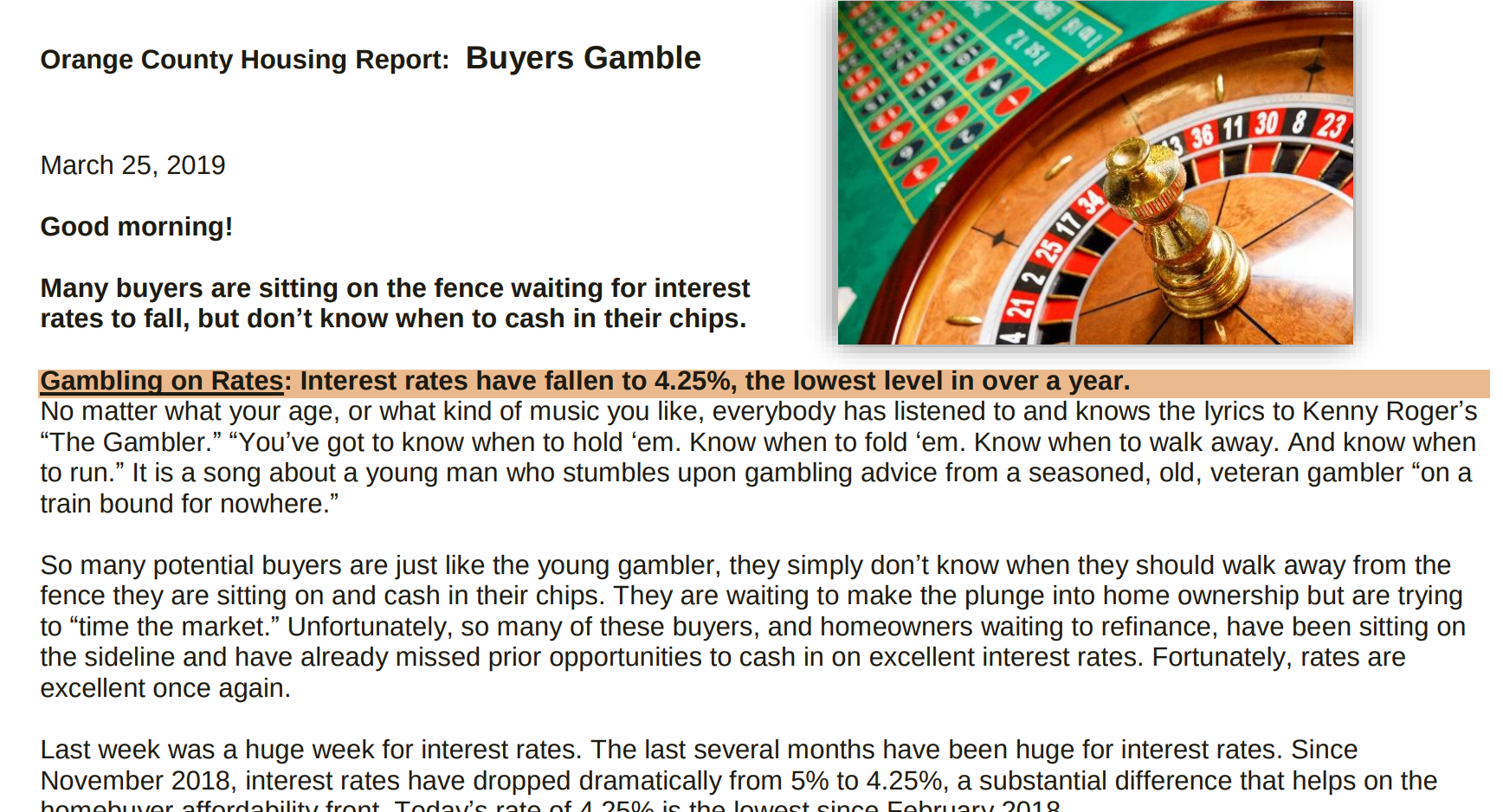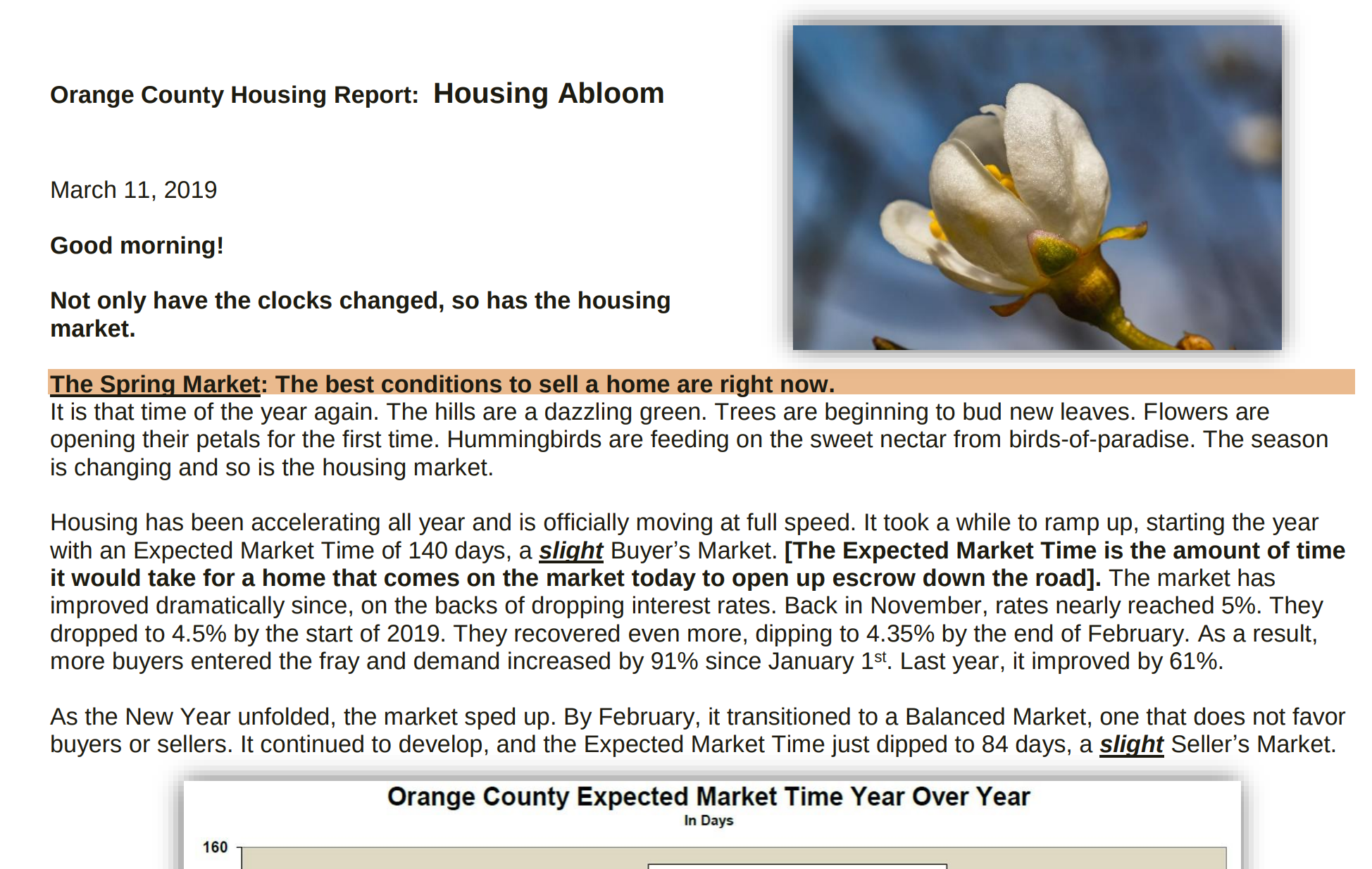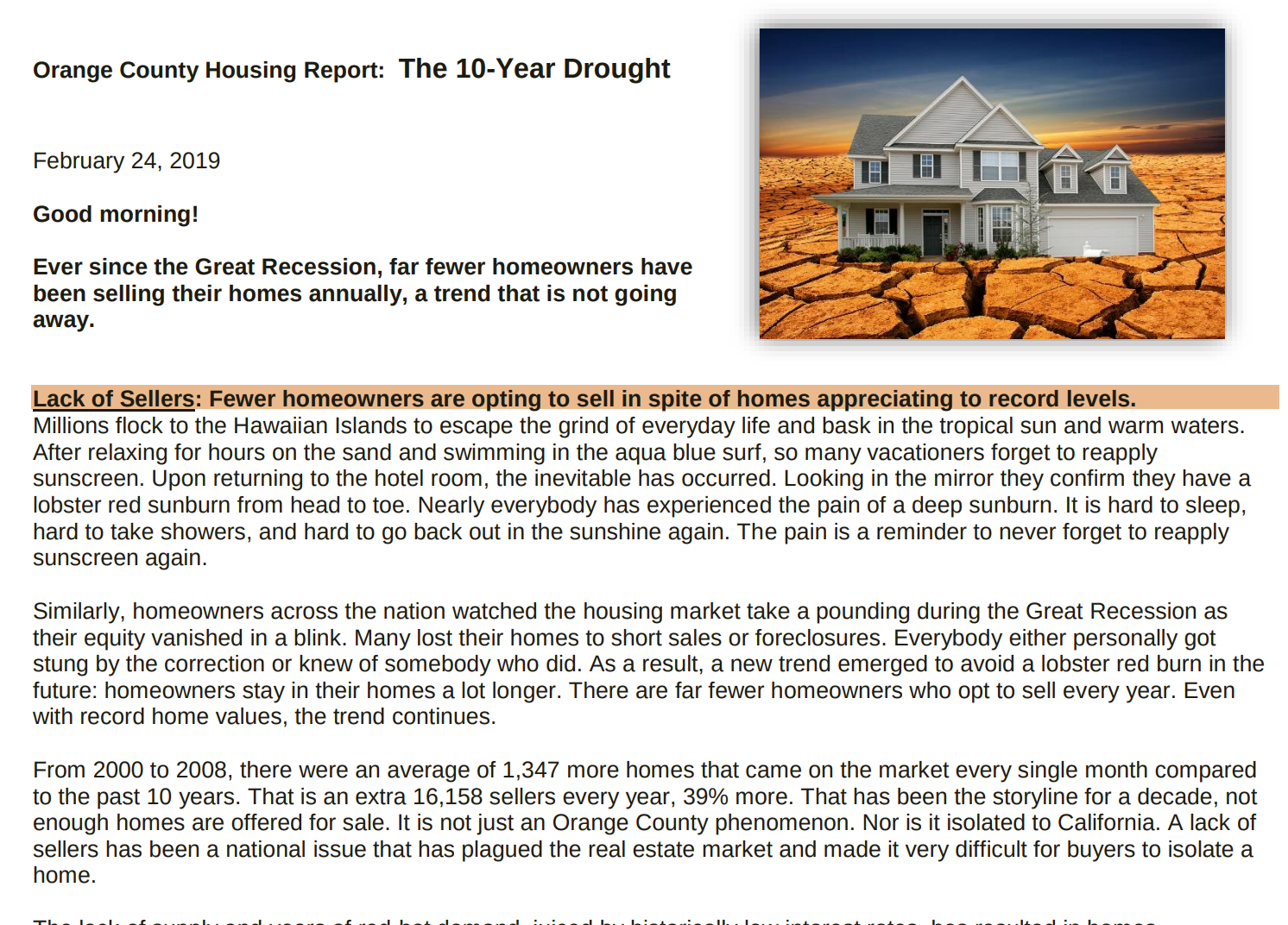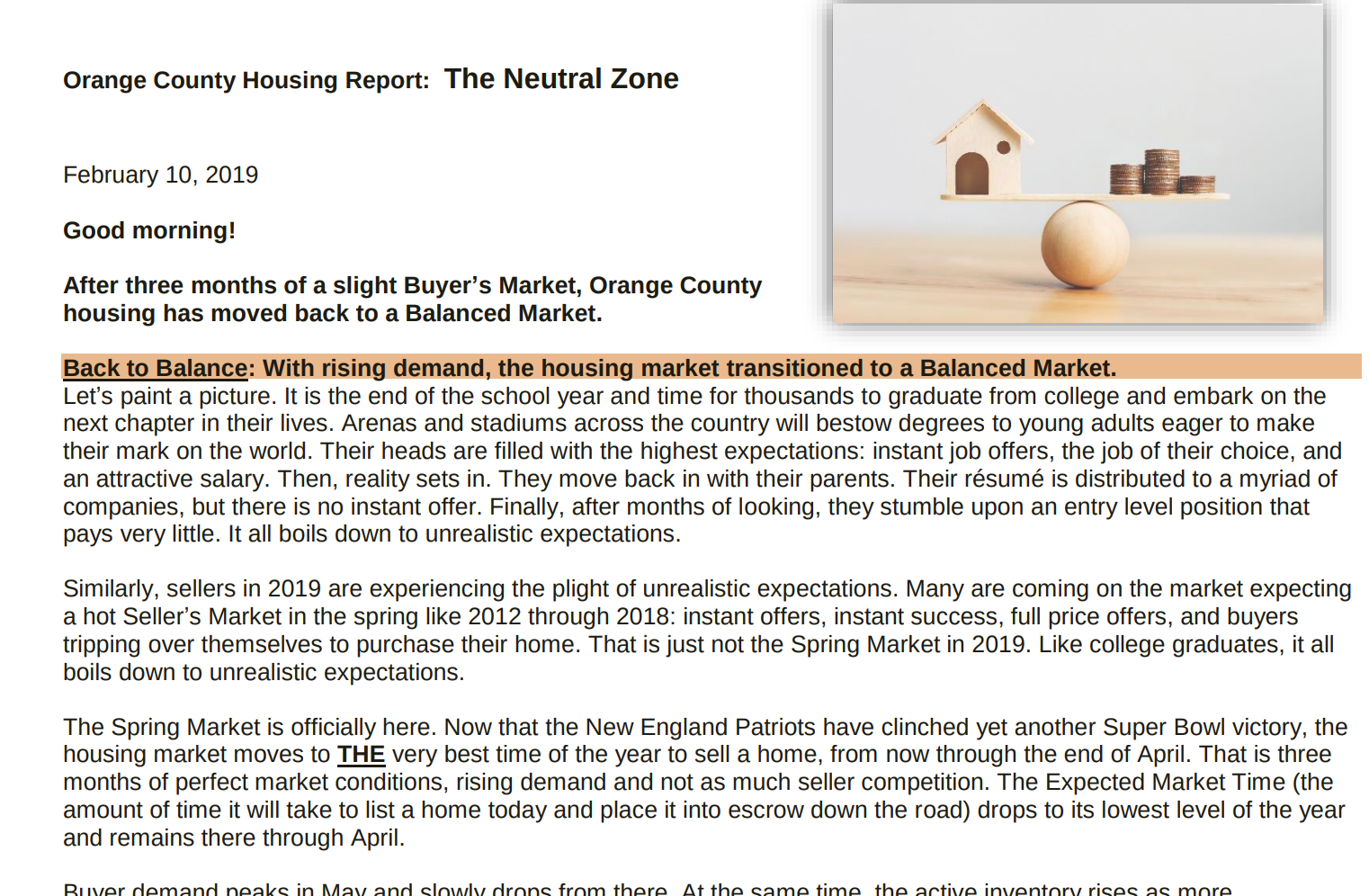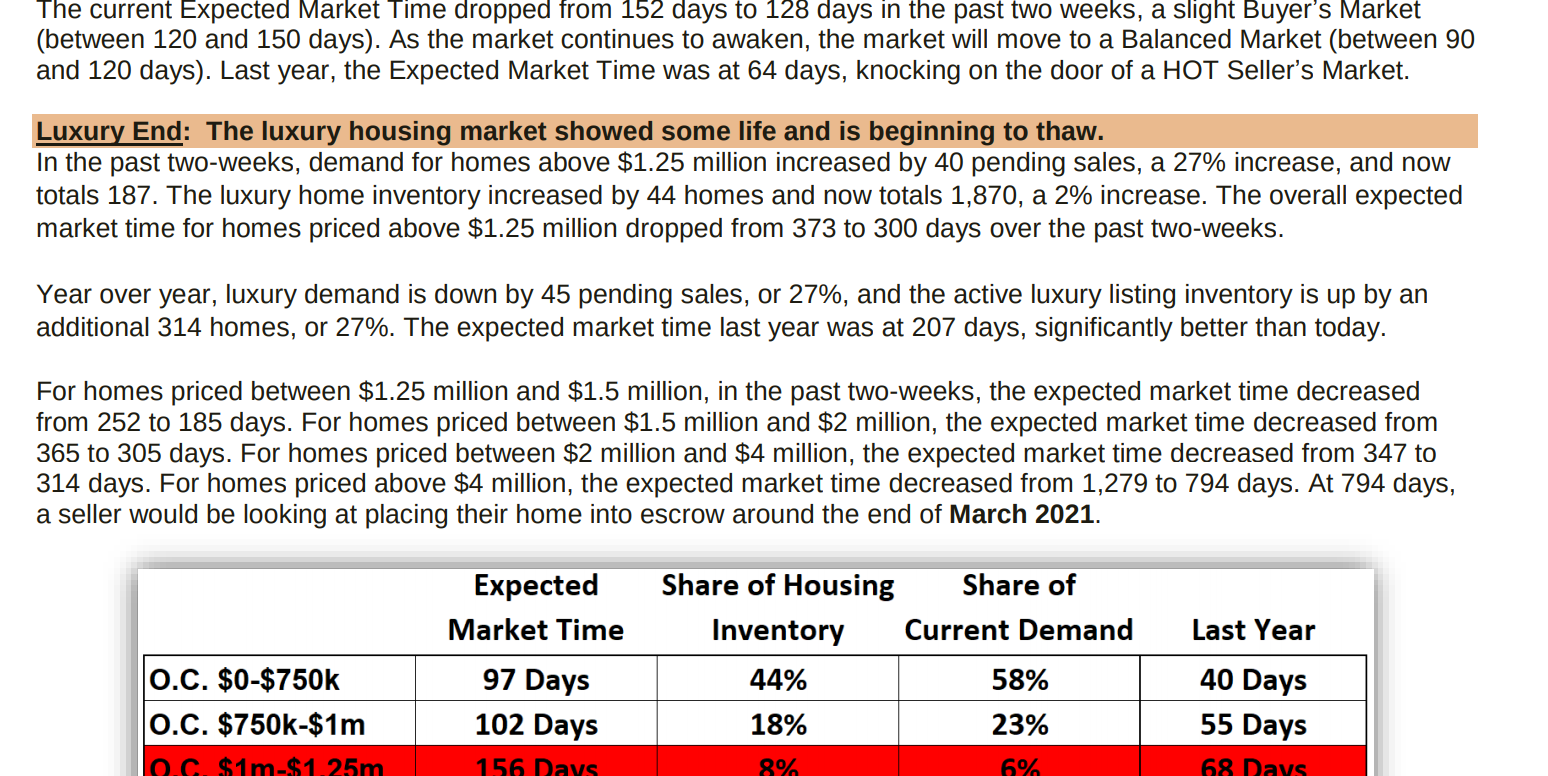 Contact us and we'll do our best to get you the most money for your Orange County real estate.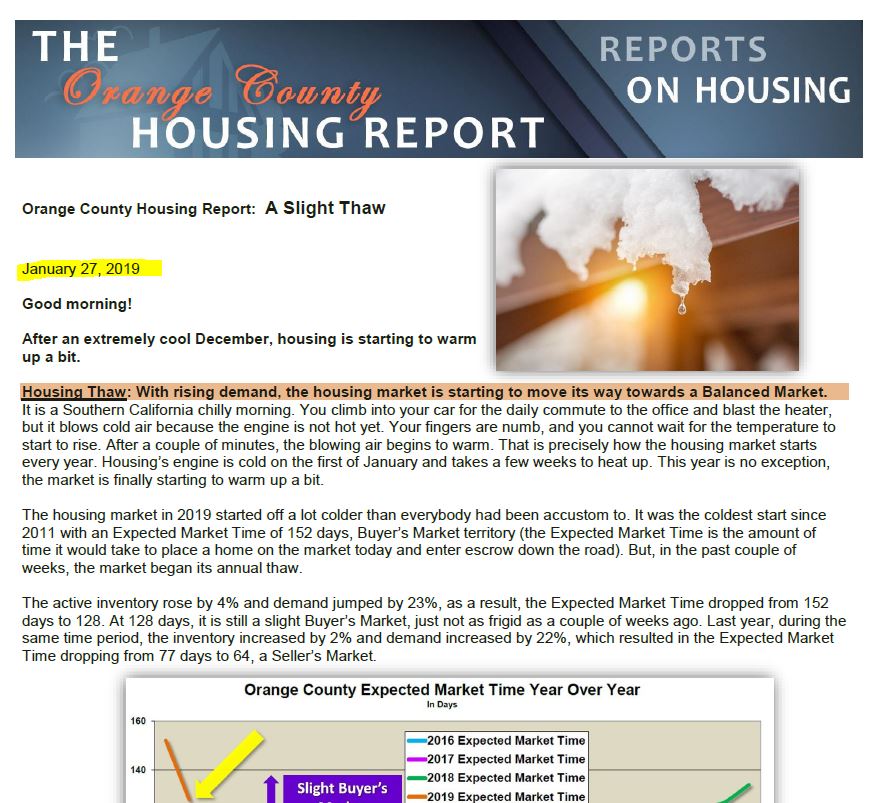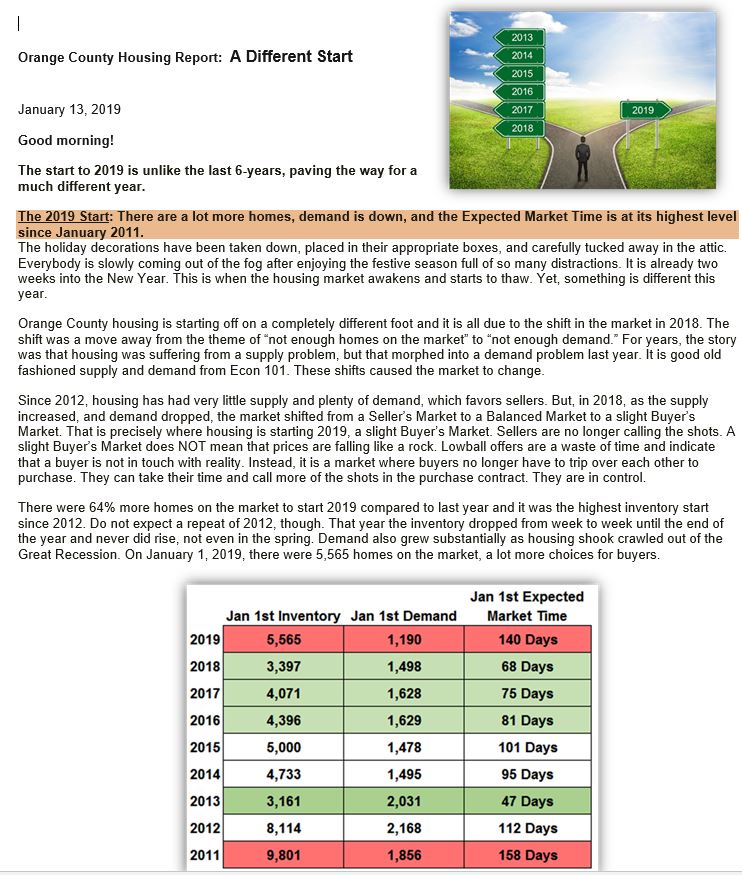 If you would like the full Orange County real estate market report(only a brief summary are shown above), we'll be glad to email to you the pdf version. The most recent version is May 6, 2019. Just put "OC market report" in the comment section.
Please, do not request if you're a licensed real estate agent.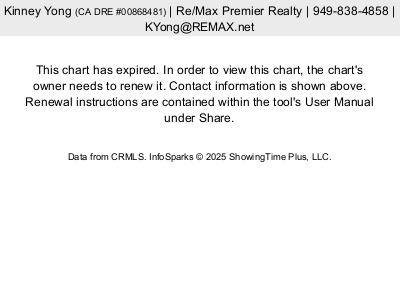 The benefits of home ownership includes:
Pride of Home Ownership
Sense of belonging to a community
Some tax write-off
Principal paydown
Consistent payment - rent can increase each year
Appreciation - most likely for the long term
Hedge against inflation
& best of all, you can have a dog(s) or cat(s) without any problems.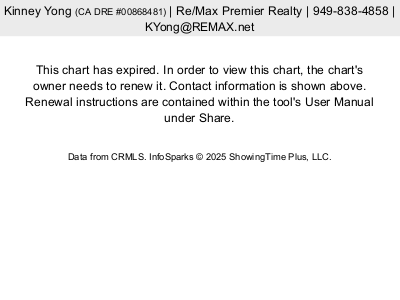 The following charts is for the Newport Coast area zip code 92657

Good time to sell while we have low inventory of homes for sale in Newport Coast
The following data are actively updated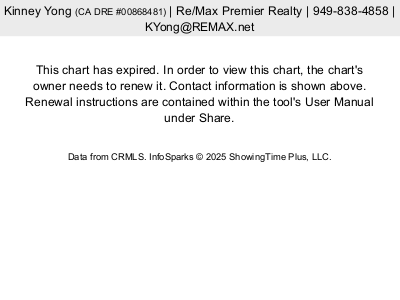 Median Sales Prices appears to be fairly stable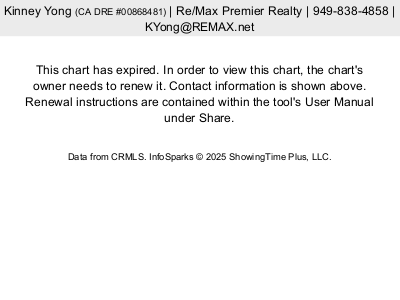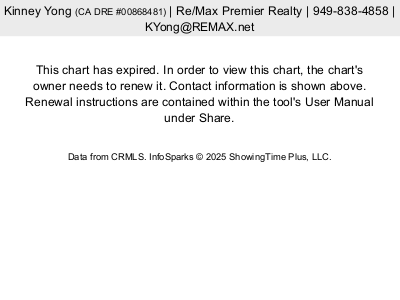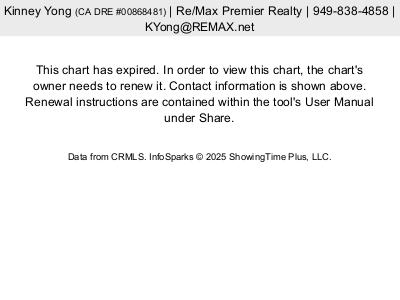 Home buyer's should consider all of the financial implications of a purchase and understand and be comfortable with what you are getting into (ie. - monthly payment, down payment, reserves, etc...) but to worry about whether the market will go up or down in the short term is not what is important. Contact us now to purchase your beautiful Newport Coast home or to sell and have the next owner enjoy our beautiful area.